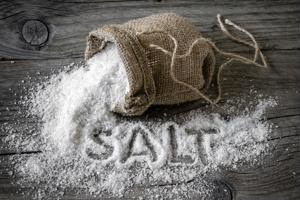 Seniors are at more of a risk for high blood pressure than others, which can lead to cardiovascular disease and strokes. As a result seniors should be eating way less salt. If you're an at-home senior care provider looking to decrease your client's sodium intake, then take a look at these three easy steps to reduce the amount of salt your client is eating:
1. Stay away from cans 
Canned soup and vegetables are notorious for being very high in sodium. In fact, some soups have over half of the recommended sodium a healthy adult should have per day. If you grocery shop for your client, try to buy fresh or frozen vegetables rather than canned, and aim for cooking meals from scratch as much as you can. If you're buying canned goods, peruse the label to see how much sodium it contains.
2. Replace salt with other herbs and spices
If you're cooking a meal for your client, use other herbs and spices to add savory flavor. Try garlic, thyme, rosemary and sage, or even salt-free spice blends that you can find at the grocery store. 
3. Be careful with low-fat options
Low-fat foods are tricky, because they seem like the healthier option, but they can sometimes have twice the amount of sodium as the regular version in order to balance out the flavor. If you buy low-fat, check the label first.